Press

"Higher Education Voter's Guide 2004"

Austin Toll Party/PET Endorsement Speech, October 18, 2004.

2004 Voter's Guide, Austin American Statesman, October 17, 2004.

'House Challengers in Uphill Fight: District 52 Write-in Hopeful Says Incumbent's All Wrong', by Camille Wheeler, Austin American Statesman, Thursday October 14, 2004.

'Incumbent facing write-in challenger in House race', by Kurt Johnson, Taylor Daily Press, October 14, 2004.

October 7th Press Release: 'Felthauser Garners Major Campaign Endorsements'.

'Write in Candidates Depend on Voter's Memory, Spelling', by Ben Trollinger, The Williamson County Sun, October 6, 2004.

'Williamson County Democratic hopefuls aim at state House', by Jennifer Barrios, The Austin American Statesman, September 11, 2004.

September 5th Press Release: 'Karen Felthauser for State Representative Campaign'.

' Krusee Faces Dem Write-In', by Lee Nichols, The Austin Chronicle, August 13, 2004.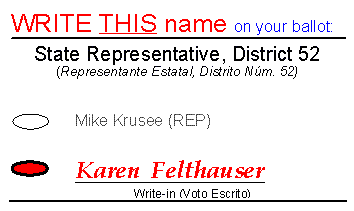 Education Health Toll Roads Taxes Bio
Press Endorsements Contribute Calendar Home